Private taxi tour
Duration from Princess Hotel: 5-6 hours
Discover the volcanic landscapes of the Teneguía volcano (1971) and the vineyards where the famous Malvasia wine is made. With this tour you can also visit the wonderful salt pans of Fuencaliente and Fuente Santa.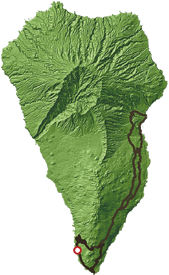 Starting in Princess Hotel, our first stop will be at the Salt pans and Lighthouse of Fuencaliente, a protected area with a great ethnographical and landscape values. Then we will visit the rest of Fuencaliente, where there are the volcanoes of San Antonio and Teneguía. This town is the main exponent of the winemaking tradition in La Palma. Its malvasía is the most famous Canary wine in the world. The vineyards of Fuencaliente grow on the grey ashen slopes and yellow-encrusted Teneguia, the last volcano to erupt in the Canaries (in 1971).
Now we will go to Santa Cruz de La Palma and its neighborhood of Las Nieves. Then, in the city we will visit Barco de la Virgen. In Breña Alta we will stop in La Concepción viewpoint, with views of Las Breñas. In San Isidro we will stop in Los Dragos Gemelos. In our return to the hotel, we will make a last stop at the Montaña de La Breña, which offer views of the capital city and the East region.