Private taxi tour
Duration from Princess Hotel: 6-7 hours
With this tour you will visit Los Tilos, one of the best surviving laurel forests in the planet, you feel like you travel back in time to discover how was the world 20 million years ago.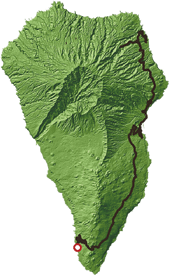 After passing through the municipality of Villa de Mazo, we will make our first stop in La Montaña viewpoint, in Breña Baja. Then we will go to San Isidro to visit Los Dragos Gemelos. The next stop is in La Concepción a viewpoint with beautiful views of Santa Cruz de La Palma and the region of Las Breñas. Then we will visit the church of Las Nieves, where you can see the patron saint of the island and Flemish ecclesiastical artworks. In Santa Cruz we will visit La Encarnación castle and the Barco de la Virgen, a maritime museum inside a replica of the Santa Maria, the largest ship Cristopher Colombus used to discover the Americas.
Leaving the city behind we will head to the North. We will stop at San Bartolomé viewpoint, which offers panoramic views of the municipalities of Puntallana and San Andrés y Sauces, plus the famous statue of "The Lover's Leap".
Now, we come to Los Tilos. Visiting this laurel forest is like traveling back in time to see how was the Mediterranean Basin 20 million years ago. Because the location of the Canary Islands and its climate, this prehistoric forest has remained unchanged for million years.
Finally, we will visit Charco Azul and, after passing through San Andrés, we will make a last stop at Puerto Espindola.