Private taxi tour
Duration from Princess Hotel: 6-7 hours
The Roque de los Muchachos is the highest point of La Palma. With this tour you will enjoy of amazing views of the Parque Nacional Caldera de Taburiente and the islands of Tenerife, El Hierro y La Gomera. You can also visit the telescopes of the Observatorio Astrofísico, one of the most important in the world.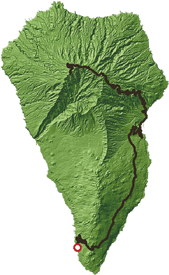 After we pick you up in La Palma & Teneguía Princess Hotel, the tour will head towards to the North through Villa de Mazo. Then, we will stop in La Montaña viewpoint, in Breña Baja. After a small stop in Los Dragos gemelos, our next stop will be in La Concepción viewpoint, located on the top of an ancient crater, which gives a great view of the capital city and Las Breñas. Then we will go to the church of Las Nieves. In the interior you will find high-value Flemish ecclesiastical artworks. Our next stop is Mirca, a beautiful suburb of Santa Cruz de La Palma, where we will see a rare specimen of Canary palm tree. Due to its lack of chlorophyll in their leaves is known as "palmera albina" (albino palm tree).
Now we head to the highest point of the island. With a little luck you will see the famous "mar de nubes" (sea of clouds) while the pine forest gives way to the high-mountain vegetation, which is adapted to the harsh climatic conditions and low rainfall. Then we will stop at the viewpoints of Degollada de Franceses and Los Andenes, where you will enjoy spectacular views of the National Park Caldera de Taburiente. If the day is clear, you also can see the islands of Tenerife, La Gomera and El Hierro.
The next stop is at the Astrophysical Observatory, one of the most important in the world because of the quality of the night sky without light pollution. And finally we will arrive to the top of the Roque de los Muchachos. With its 2426 metres, La Palma is the second-highest island of the archipelago and the third highest island in the world in relation to its surface area.
At this point, we can return to our destination by the same road that we came or descend to the North. In this case, the duration of the tour would be about 8-9 hours.