Private taxi tour
Duration from Princess Hotel: 4-5 hours

If you are staying in Princess Hotel, this tour of contrasts is perfect for you. You will visit volcanic landscapes (including the Tajogaite eruption, 2021), coastal areas and pine forests.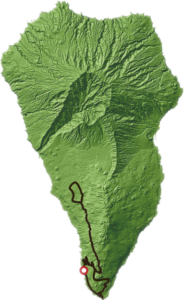 Starting in Princess Hotel, we will visit the lighthouse and salt pans of Fuencaliente, a protected area with a great ethnographical and landscape values.
Continuing to Los Canarios, we will stop in Teneguía Volcano (which erupted in 1971) and then in the viewpoint of San Antonio Volcano.
We will continue through the pine forest area of the municipality heading west of the island, until we find the newest volcano lavas. At the viewpoint of Las Hoyas, we will be able to observe the youngest soil in Spain, created by the Tajogaite Volcano eruption of 2021.
On the way back to the hotel, we will pass through La Manchas, stopping at Plaza de La Glorieta and finally at La Zamora beach.