Private taxi tour
Duration from Princess Hotel: 6-7 hours
Chestnut trees and endemic Macronesia heaths (also known as fayal-brezal), pine woods, amazing views of La Caldera, vineyards, volcanoes, black sand beaches… This is definitely our most complete itinerary.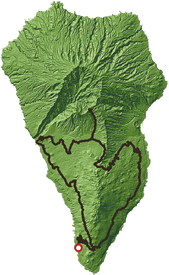 We depart from Princess Hotel to go to our first stop in Faro and lighthouse of Fuencaliente. Then, we will visit the Teneguía volcano, which was the last volcano to erupt, in 1971. In Breña Baja we will visit La Breña Mountain, which offers beautiful views of the region. Our next destination will be Refugio del Pilar, but not before passing by San Isidro, where we will visit Los Dragos gemelos.
At El Jable viewpoint we will enjoy a magnificent volcanic landscape and the Aridane Valley. Our next stop will be in La Cumbrecita, a viewpoint with beautiful views of the National Park Caldera de Taburiente. The next stop is in the Visitors Center of El Paso, which has an interesting exhibition of the natural values of the National Park. After leaving El Paso we will do a little walk through the old part of Los Llanos de Aridane. In Tazacorte we will visit its promenade, where there are some good restaurants where you can try the Canarian cuisine if you wish.

Finally, in Las Manchas we will visit Plaza de la Glorieta and the San Juan volcano lavas.