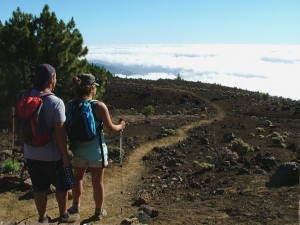 We offer taxi services for hikers in La Palma (Canary Islnads). We take into account the most convenient option so you can maximize your time and energy.
La Palma offers great conditions for hiking. With more than 1,000 kilometres of approved paths, La Palma is the Canary Island where the hiking has met its best expectation. The island has a large variety of climates, terrains and landscapes: the green and lush North, the volcanic and arid South, paths from the coast to the high mountains, crop areas, pinewoods, laurel forests…
We offer taxi services to the starting point and we collect you from the finishing point of the hike.
If you want a taxi service from your accomodation to a hiking trail, please notice us in the "Any other relevant details" box of our booking form.