Private taxi tour
Duration from Princess Hotel: 5-6 hours

If you are staying in Princess Hotel, this tour of contrasts is perfect for you. You will visit volcanic landscapes, coastal areas, pine forests and magnificent viewpoints of the National Park and Cumbre Nueva.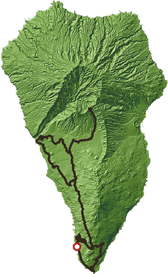 Starting in Princess Hotel, we will visit the lighthouse and salt pans of Fuencaliente, a protected area with a great ethnographical and landscape values.
Continuing to Los Canarios, we will stop in Teneguía, the last volcano erupted in La Palma in 1971.
Aftar travelling through the volcanic and pinewoods landscapes of the South-West area of the island, we will going to El Paso and will stop in the Visitors Centre of the National Park Caldera de Taburiente, and then in La Cumbrecita viewpoint, where we will enjoy of a stunning views of La Caldera and the "cascade of clouds" of Cumbre Nueva.
In Los Llanos de Aridane, we will do a little walk throught the old part of the city. Our next stop will be in Puerto de Tazacorte, which promenado has several good restaurant of local food highly recommended.
Returning to the hotel, we will pass through Las Manchas, and will stop in the San Juan volcano lavas (1949) and Plaza de La Glorieta.